Estimating the Cost of Software Independent Verification & Validation (IV&V)
Since IV&V is a level of effort activity (purchase a much as you want) people can buy as much or as little as the want as a level of effort activity. IV&V is not estimated out of the box with SEER-SEM since it is not part of the development itself. Of course some people calibrate in IV&V practices from their organization.
Of course more critical systems would might have more IV&V than less critical ones (which need none) One customer with severe security issues spend about 40% on top of development for IV&V.
Full IV&V is not just independent testing but is an independent look at requirements sufficiency and traceability, design, coding, and testing as well as independent text.
A Titan briefing on the Internet showed IV&V as 35 to 45% http://www.dtic.mil/ndia/systems/Rogers2.pdf
The book "Independent Verification and Validation By Robert O. Lewis"
shows IV&V being up to 18% of software development cost.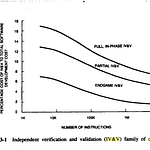 Wallace and Fuji (1989) report mixed results on the effectiveness of independent verification and validation (IV&V), largely due to the fact that IV&V adds 10 to 30 percent to development costs while saving 0 to 180% of IV&V costs.
Go Back